| | |
| --- | --- |
| | |
| | |
---
This memorial website was created in the memory of our loved one, Joshua Dylan O'Donnell who was born silently on February 23rd,2007 @ 39 weeks. We don't have a reason for his passing and really, we never will. We were only 4 days away from our scheduled c-section for delivery. He will always be our Angel~Forever in our hearts! Always Loved,Never Forgotten!
Please feel free to light a candle or write us a message under tributes and condolences. It's both healing and validating to us to have our son acknowledged~Thank you.


AN ANGEL IN THE BOOK OF LIFE WROTE DOWN MY BABY'S BIRTH
AND WHISPERED AS SHE CLOSED THE BOOK ~
"TOO BEAUTIFUL FOR EARTH"







THE CHAIN

WE LITTLE KNEW THAT MORNING
THAT GOD WAS GOING TO CALL YOUR NAME
IN LIFE WE LOVED YOU DEARLY
IN DEATH WE DO THE SAME

IT BROKE OUR HEARTS TO LOSE YOU
YOU DID NOT GO ALONE
FOR PART OF US WENT WITH YOU
THE DAY GOD CALLED YOU HOME

YOU LEFT US PEACEFUL MEMORIES
YOUR LOVE IS STILL OUR GUIDE
AND THOUGH WE CANNOT SEE YOU
YOU ARE ALWAYS AT OUR SIDE

OUR FAMILY CHAIN IS BROKEN
AND NOTHING SEEMS THE SAME
BUT AS GOD CALLS US ONE BY ONE
THE CHAIN WILL LINK AGAIN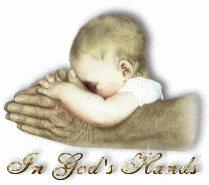 Daddy,please don't look so sad,
Mama please don't cry~Cause I am in the arms of Jesus and he sings me lullabies.
Please,try not to question God,Don't think he's unkind
Don't think he sent me to you and then changed his mind.
You see,I am a special child,and needed up above. I am the special gift you gave Him,
the product of your love.

I'll always be there with you and in the sky at night,
Find the brightest star that's gleaming,That's my halo's brillant light.

You'll see me in the morning frost,that mists your window pane.
That's me in the summer showers,I'll be dancing in the rain.
When you feel a little breeze,from a gentle wind that blows.
That's me,I'll be there planting a kiss on your nose.
When you see a child playing,,and your heart feels a little tug,
That's me,I'll be there,giving your heart a hug.

So Daddy,please don't look so sad,Mama don't you cry.
I'm in the arms of Jesus and he sings me lullabies.


Tiny Angels
Tiny Angels rest your wings
sit with me for awhile.
How I long to hold your hand,
And see your tender smile.
Tiny Angel, look at me,
I want this image clear....
That I will forget your precious face
Is my biggest fear.
Tiny Angel can you tell me,
Why you have gone away?
You weren't here for very long....
Why is it, you couldn't stay?
Tiny Angel shook his head,
"These things I do not know....
But I do know that you love me,
And that I love you so".
Author Unknown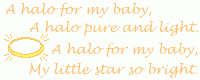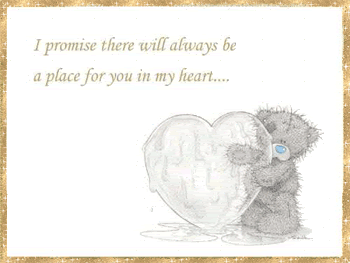 MEMORIES

If we could have a lifetime wish
A dream that would come true,
We'd pray to God with all our hearts
For yesterday and You.

A thousand words can't bring you back
We know because we've tried...
Neither will a thousand tears
We know because we've cried...

You left behind our broken hearts
And happy memories too...
But we never wanted memories
We only wanted You.





"Ask My Mom How She Is"
(unknown)
My Mom, she tells a lot of lies,
She never did before
But from now until she dies,
She'll tell a whole lot more.

Ask my Mom how she is
And because she can't explain,
She will tell a little lie
because she can't describe the pain.

Ask my Mom how she is,
She'll say"I'm alright."
If that's the truth, then tell me,
why does she cry each night ?

Ask my Mom how she is
She seems to cope so well,
She didn't have a choice you see,
Nor the strength to yell.

Ask my Mom how she is,
"I'm fine, I'm well, I'm coping."
For God's sake Mom, just tell the truth,
Just say your heart is broken

She'll love me all her life
I loved her all of mine.
But if you ask her how she is,
She'll lie and say she's fine.

I am here in Heaven
I cannot hug from here.
If she lies to you don't listen
Hug her and hold her near.

On the day we meet again,
We'll smile and I'll be bold.
I'll say,
"You're lucky to get in here, Mom,
With all the lies you told!"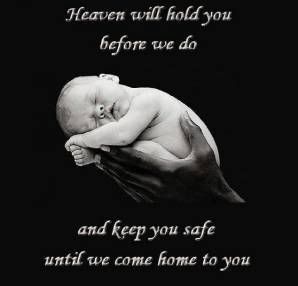 "My Mom is a Survivor"

My Mom is a survivor,
or so I've heard it said.
But I can hear her crying at night
when all others are in bed.
I watch her lay awake at night
and go to hold her hand.
She doesn't know I'm with her
to help her understand.
But like the sands on the beach
that never wash away ...
I watch over my surviving Mom
who thinks of me each day.
She wears a smile for others ...
a smile of disguise!
But through Heaven's door
I see tears flowing from her eyes.
My Mom tries to cope with death;
To keep my memory alive.
But anyone who knows her knows
it is her way to survive.
as I watch over my surviving Mom
through Heaven's open door ...
I try to tell her that angels
protect me forevermore!
I know that doesn't help her,
or ease the burden she bears.
So, if you get a chance, go visit her.
Show her that you care.
for no matter what she says ...
no matter what she feels.
My surviving Mom has a broken heart
that time won't ever heal.
~Author~
Kaye Des'Ormeaux


My Dad is a Survivor

My dad is a survivor too
which is no surprise to me.
He's always been like a lighthouse
that helps you cross a stormy sea.
But, I walk with my dad each day
to lift him when he's down.
I wipe the tears he hides from others;
He cries when no one's around.
I watch him sit up late at night
with my picture in his hand.
He cries as he tries to grieve alone,
and wishes he could understand.
My dad is like a tower of strength.
He's the greatest of them all!
But, there are times when he needs to cry...
Please be there when he falls.
Hold his hand or pat his shoulder...
And tell him it's okay.
Be his strength when he's sad,
Help him mourn in his own way.
Now, as I watch over my precious dad
from the Heavens up above...
I'm so proud that he's a survivor...
And, I can still feel his love.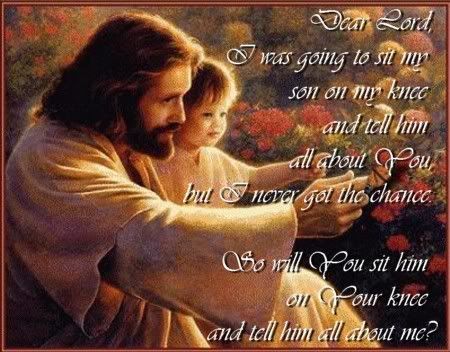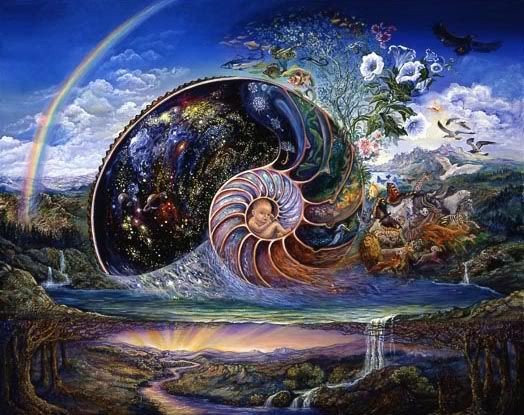 ~Little Angels~
Our precious little angels,
They could not stay long.
Enough to steal your heart away
Then force you to be strong.
Enough to show you in a glimpse,
How wonderful life can be.
And how no wealth or worldly good,
Could take the place of Thee.
Little Angels in a cloud
Looking down upon their family.
Feeling forever proud
That for a time, forever short,
They had the chance to be
Our Little Precious Angels,
So Beautiful to see.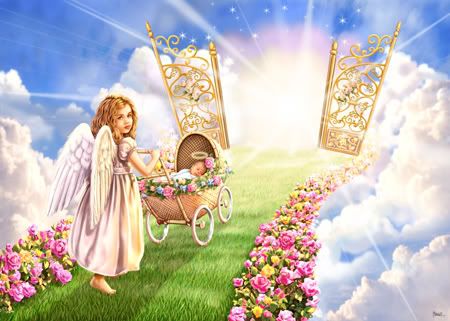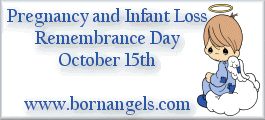 Some spirits are far too precious
to ever step foot on earth
They're conceived to be angels.



Reunion Heart

Since heaven has become your home
I sometimes feel that I'm alone;
And though we now are far apart
You hold a big piece of my heart
I never knew how much I'd grieve
When it was time for you to leave
Or just how much my heart would ache
From that one fragment you would take
God let this tiny hole remain,
Reminding me we'd meet again
And one day all the pain will cease
When He restores this missing piece
For Jesus heals each tiny part
That holds your memory in my heart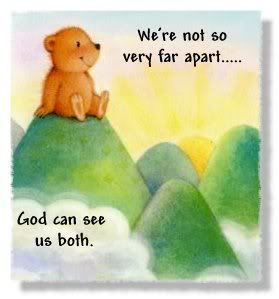 Two little feet went pattering by
They wandered off to the sunny sky


When Tomorrow Starts Without Me

When tomorrow starts without me
and I am not here to see,
if the sun should rise
and find your eyes all
filled with tears for me.
I wish so much you wouldn't cry
the way you did today,
while thinking of the
many things we didn't get to say.
I know how much you love me,
as much as I love you,
and each time you think of me
I know you'll miss me too.
But when tomorrow starts without me,
please try to understand,
that an angel came and called my name
and took me by the hand.
~~Author Unknown


ANGEL SUNRISE

Have you ever seen a sunrise
That was streaked with pink and gold
It's called an Angel Sunrise
Is the story I've been told.

They streak the sky with color
To lift our spirits high
They paint with lovely colors
As through the clouds they fly.

These Angels have a special task
They brighten up our day
Our skies they color lovely
To begin a golden day.

The next time that you see a sky
That's gold and pink and bright
Look carefully and you might see
The Angel that's in flight.
(Charlotte Anselmo)